Best Mirrorless Cameras for Photo, Video, and More: 2018 Comparison Buying Guide
Mirrorless cameras have quickly taken over the photography community, and it's easy to see why. The improved ergonomics, portability, live electronic viewfinder, image quality, and flexible lens mounts are just a few reasons to hop on the mirrorless train.
But it can be tricky to know where to start. Every manufacturer has thrown their hat in the ring, offering very different cameras for very different photographers. And if you already have a sizable lens collection, you aren't chained to it – even same-manufacturer mirrorless cameras aren't compatible with your existing lens suite without an adapter. In effect, you're starting from the ground up.
In this buying guide, we'll first identify your needs and then recommend the best mirrorless camera available in 2018 for your specific requirements.
Best Mirrorless Cameras for 4K Video:
If you plan on using your mirrorless camera for heavy video production – consistent vlogging, travel, or professional work – you'll want to go with one of these cameras. The emphasis in these bodies is on stabilization, low-light ISO performance, bitrate capture, and flat shooting profiles – all essential factors when it comes to creating a high-quality video.
Specs: APC-S Sensor, 24.3MP, 4K Video, IBIS
Who's it for? Videographers who prioritize image quality, sharpness, and color out of the box.
4K in 60p? Check. 120fps at 1080p? Check. Flat color profile? Check check check.
While the X-H1 has an APC-S sensor rather than a full frame, the image quality and ISO performance is in a similar league as the Sony A7S, and perhaps even better than the Panasonic GH5.
Functionally, the X-H1 has 3 to 5-axis image stabilization (depending on the lens), meaning you can comfortably hand-hold this camera during filming without ruining your footage with hand shakes or walking.
Shooting at a maximum bitrate of 200Mbps and supporting internal f-log recording, this is one formidable mirrorless camera for video.
Specs: Full Frame sensor, 12MP, 4K Video
Who's it for? Videographers who don't want to be held back by low light/night-time scenes.
Don't let the old age or 12MP fool you – you can still shoot 4K on this full-frame sensor, and there's a very good reason for the smaller resolution.
This camera's low-light performance is one of the best in production, blowing every other mirrorless camera clean out of the water. Every megapixel on the sensor is comparatively larger, meaning ISO is boosted – all the way up to ISO 409,600.
This is a niche camera, and if you don't anticipate shooting in a wide variety of low-light scenes, then look to the Sony A7R III for a more well-rounded video/photo alternative. But if you're looking for a super-versatile video camera, look no further.
(PS – check the "Used" prices on Amazon. This camera can be very affordable if you know where to look.)
Specs: APC-S Sensor, 20.3MP, 4K Video, IBIS
Who's it for? Videographers who want an easy, shake-free filming experience – and don't plan to shoot in low-light very often.
Panasonic surprised just about everybody by dominating the mirrorless video market, and it's only recently that other manufacturers have started to catch up.
Even with the smaller Micro-Four-Thirds sensor, this camera holds its own as one of the easiest and most versatile mirrorless 4k video cameras. The in-body image stabilization is industry-leading, and that makes
While the image quality lags slightly behind the X-H1 and the A7S – particularly when pushed closer to it's upper limit of ISO 25,600 – this camera delights in it's ease of use and crisp video files (400 Mbps in Panasonic's super-flat log color profile is incredibly flexible).
Best Mirrorless Cameras for Image Quality:
There are some bizarrely powerful still cameras in the mirrorless world. Depending on how much you're willing to invest, you can expect NASA-tier image rendering.
Specs: Medium Format Sensor, 51.4MP
Who's it for? The photographer who worships image quality, dynamic range, and ISO performance above everything else.
This camera isn't for the faint of heart. Packing a medium format sensor, this is the largest mirrorless camera on the market. But for what it is, it's surprisingly well-priced – and in terms of sheer image quality, this camera is unbeatable by almost any other consumer camera in production.
The Fuji GFX 50S is one of two mirrorless medium format cameras – which makes sense, considering how niche this kind of camera is. It has it's own lens mount, which means you'll need to invest in specialty medium-format Fuji lenses if you pick this beast up.
But the photographers who use the Fuji GFX 50S aren't concerned with an extra few pounds of weight, or a new lens system. Those who are willing to invest in this camera are rewarded with mind-blowing detail, image resolving, color rendering, dynamic range, and oh – the ISO performance is otherworldly.
Specs: APC-S Sensor, 24.3MP, 4K Video
Who's it for? Photographers who value image quality and a delightful shooting experience, but don't want to drop the cash on a Fuji GFX 50S.
You can read a full review here, but here's what you need to know: Fuji designed this camera as an updated rangefinder – complete with an optical viewfinder, helpful for street, wildlife, or sports photography – and everything from the ergonomics to the image output is wonderful.
With exceptional image quality and latitude in your RAW files, you'll never feel like this camera can't handle what you're trying to shoot. It's tactile, portable, and empowering. Not only can you take it anywhere, but you'll actually want to.
Note that you can also shoot 4K video on the X-Pro 2, but without the flat Eterna profile.
Specs: Full Frame Sensor, 42.4 MP
Who's it for? Photographers who value image quality and video performance while dealing with slightly clunky ergonomics and firmware.
With a 42MP back-side illuminated full-frame CMOS sensor, this updated model has been built to overclock the sensor and capture an extra stop of dynamic range.
Sony's image quality has been industry-leading since their first mirrorless release, and this camera is a shining example. Not to mention – the Sony A7R III is a very capable 4K video camera as well!
Specs: Full Frame Sensor, 45.7 MP
Who's it for? Photographers excited by the newest imaging technology available.
Nikon's latest foray into mirrorless cameras has already proven incredibly impressive.
This newly available full-frame camera packs top-tier specs with a strong line-up out of the gate: 35mm f1.8 S, 50mm f1.8 S and a 24-70mm f4 S.
Best Mirrorless Cameras for Travel:
Perhaps the strongest value of the mirrorless camera is its pocketable size. For a photographer who enjoys having an 'every day carry' camera, size, stealth, and ergonomics are just as important as image quality – and these cameras are the best in class:
Specs: Micro Four Thirds Sensor, 20.3 MP
Who's it for? Photographers who want to travel as light as possible.
Housing a capable micro-four-thirds sensor, the Lumix GX9 might just be the worlds smallest mirrorless camera. Coupled with a pancake lens, this camera slides in to any jacket pocket with ease.
The image quality and ISO performance suffer a bit for the smaller sensor, but nothing too noticeable. The real value is in the 5-axis in-body image stabilization – hand shake for 4K video or slower shutter speeds on stills are a thing of the past. And because you can lower your shutter speed without introducing hand-shake, you can bump your ISO down to prevent added noise.
Smart, right?
Specs: APC-S Sensor, 24.3MP, 4K Video
Who's it for? Photographers who want to travel light, but not sacrifice on image quality.
This little itty powerhouse is one of the tiniest interchangeable lens cameras in existence – while somehow packing the same sensor as the X-H1 and the X-Pro 2 inside.
Sporting a touch screen, EVF, and the X-Trans III sensor, it's a very capable camera. Handling is a bit more gimped than on the larger models – autofocus isn't as customizable, they've downsized the EVF, and entirely removed the D-pad in lieu of the touch screen – but get over that learning curve and you have an impressive feat in portability and power.
Specs: APC-S Sensor, 24.3MP
Who's it for? Photographers who want to stay light and minimal, and don't mind a fixed 35mm focal length.
Ok, yes, – this is a fixed lens camera, but don't scroll away just yet. Read this review first – the Fuji X100F is a transformative tool that thousands of photographers have fallen in love with.
With the image quality of an X-Pro 2 in a pocketable form factor, it's the ultimate travel/every-day carry companion – or wherever you just need to be discreet. You can read the full review here.
On top of that, you can pick up the TCL or WCL to give your X100F three equivalent focal lengths: 18mm, 35mm, or 50mm.
Best Cheap Mirrorless Cameras for a Small Budget:
Camera manufacturers are currently running on over-time trying to iterate and outpace each other's latest offering. While this is good news for those willing to pay top dollar for the latest and greatest, it's even better news for the budget shooter.
If you're looking for the best cheap mirrorless camera for both photo, video, and anything in between, look no further.
Specs: APC-S Sensor, 20.1 MP
Who's it for? A photographer and videographer on a budget.
It's crazy how dirt-cheap this camera has become since Sony cannibalized it's product line.
The APC-S sensor on the A5000 is more then capable of handling wide amounts of dynamic range, tracking focus on fast-moving subjects, and producing crystal-sharp images. It also shoots 4K video with ease.
For the price, this camera is about as good as it gets. Not to mention, it's the smallest body in the Sony line up – it's super portable!
Specs: APC-S Sensor, 24.3MP
Who's it for? Photographers on a budget looking for a capable mirrorless camera with a strong lens line-up.
Instead of Fuji's 24MP X-Trans III sensor, this camera comes packed with a 24MP Bayer sensor. For most, the difference between an X-Pro 2 still and an X-T100 still would be indistinguishable: almost identical ISO performance, dynamic range, sharpness, etc.
But some photographer prefer the traditional Bayer look to Fuji's X-Trans sensor. If you're one of them, the X-T100 couples the delightful ergonomics and professional lens lineup with the sensor technology you know and love from Canon and Nikon.
Autofocus is zippy, the buffer handles fast-paced RAW shooting quite well, and it's got an articulating screen for those selfie moments. What more could you want?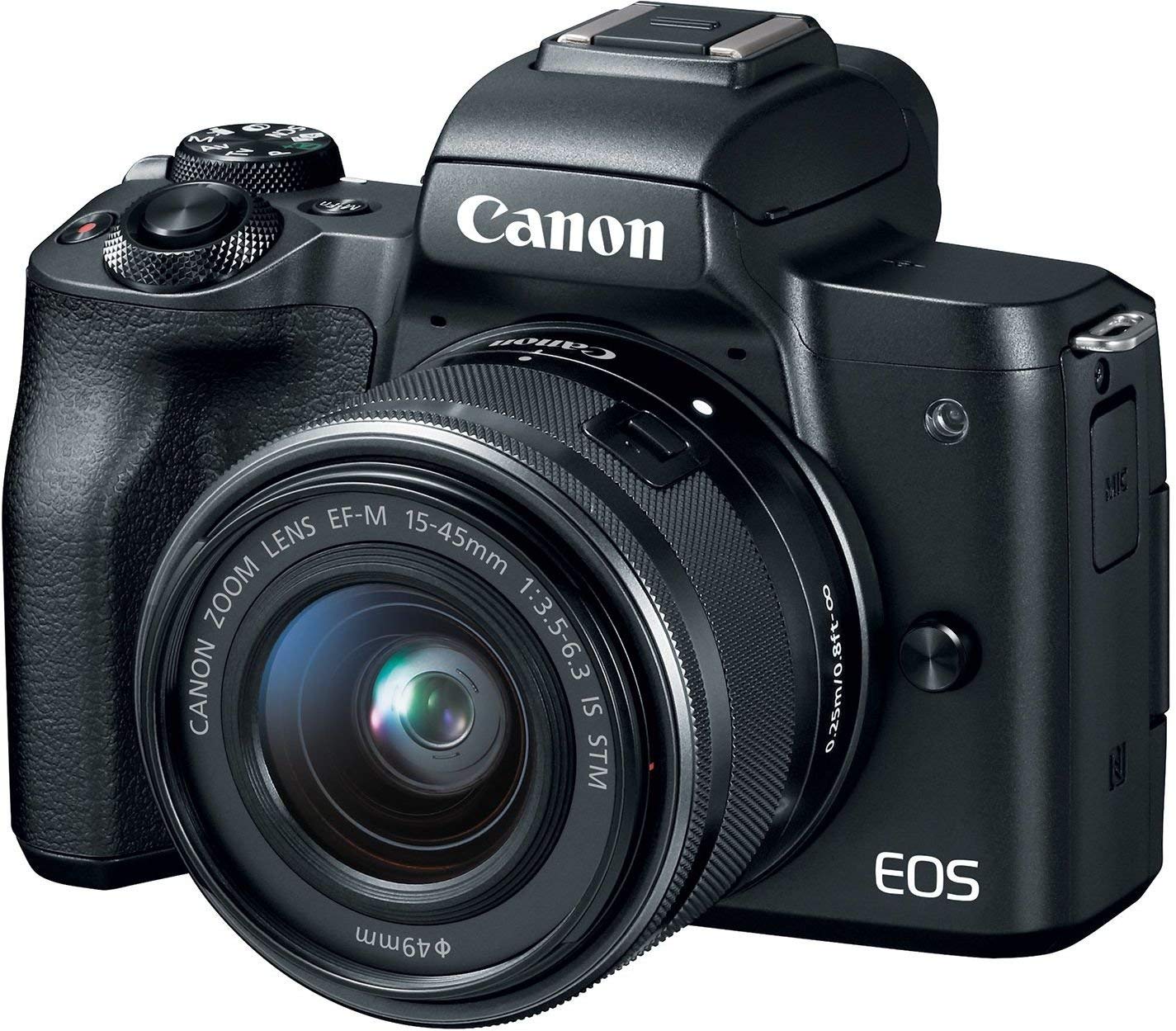 Specs: APC-S Sensor, 24.1 MP, 4K Video
Who's it for? Photographers looking for a cheap, intuitive mirrorless camera with Canon's latest processor.
Canon's latest APC-S mirrorless offering is affordable and supremely easy to use.
The image quality is as good as any other ASP-C camera in Canon's line-up (think the Rebel line up all the way up to the 7D and beyond), but folded in to a much cuter package. Autofocus performance is strong overall, and the implementation of the new C-Raw format will save you space on your memory card.
While the 4K performance is a bit of a let down, the overall experience of this camera is satisfying. For the price, the Canon EOS M50 is well worth the money.
Paul Mauer
Digital strategist, writer, and image maker based in Manhattan working with clients in the tech and entertainment industry.